Arkia flew to Russia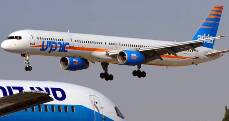 Arkia Israeli Airlines started operating flights between Tel Aviv and Saint Petersburg. The flights in the summer season will be operated three times a week - on Mondays, Tuesdays and Thursdays. In September, Pulkovo will be only two Arkia flight.
 Recall that Arkia - the second largest carrier after Israel's El Al airlines. The company was founded in 1949.The headquarters and main hub is located in Tel Aviv (Ben Gurion them. Airport). Arkia flies mainly in Europe and the Mediterranean. The fleet consists of nine ships. In St. Petersburg flights are operated on Boeing-757 aircraft.
 Flight to St. Petersburg - the first in Russia today, the route for the Israeli airline (spring 2011 the carrier has started flights to Moscow ). 
Of the other CIS countries and the former Soviet Union Arkia flies to Belarus (Minsk), Georgia (Batumi, Tbilisi) and Armenia (Yerevan).
Besides Arkia Pulkovo from Tel Aviv also flies the airline "Russia".
 In 2015, direct passenger traffic between St. Petersburg and Tel Aviv was 94 thousand people, indirect -. 30 thousand people..
At the same time the director of the Department of the Israeli Ministry of Tourism in the Russian Federation and the CIS Ksenia Kobyakov believes that the time to actively expand cooperation in tourism between Israel and Russia is quite right. "The beginning of the" high season "in the Mediterranean, and from the ministry, we will do everything to facilitate the expansion tourist flow from Russia ", -  she said.
 " Israel - a trend that is well sold all times as it has a number of obvious advantages ,  - says CEO of" Art-Travel "Maria Ushakova. -  In these circumstances, it can really make a step forward in increasing the volume of the Russian tourist traffic. And, most importantly, it provides support to our operators.
 But to increase the capacity, if it is not backed up by a substantial increase in demand, it does not make sense, but at the cost of tickets emergence of new carriers may be affected. "
 As notes manager specialized in Israel, the company "Classic Travel" Andrei Yudin, this country is always in demand: Now the depth of sales reached in July 2016, and the customers are interested in the rest of the three seas "ekskursionka" and combined version.
" Quantities of regular transportation, in principle, the missing, but the emergence of new airlines on the route can reduce the cost of tickets , -  he said.
 -  After all, when on line flight took place only one company - it can set prices however you want. If the appearance of newcomers will lead to increased competition and lower prices for transportation - it will be on hand, and tour operators and tourists. And we can only welcome. 
Source: http://www.tourbus.ru/news/10601.html