Ethiopian Airlines acquires first Airbus aircraft for Africa operations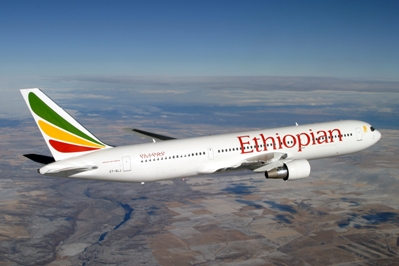 Ethiopian Airline has acquired an Airbus A-350-900 aircraft to be deployed for commercial operations for the first time in Africa.
The airline's General Manager, Nigeria, Solomon Begashaw, made this known to newsmen at the inauguration of the new aircraft at the Murtala Muhammed International Airport, Lagos on Saturday.
Begashaw said the new aircraft was a milestone achievement for Ethiopian Airlines, which was celebrating its 70th anniversary in the aviation industry.
He said: "As a pan-African airline, Ethiopian is committed to introduce to the continent with the latest and most advanced aviation technologies and systems of the century.
"Nigeria is favoured to receive the newest Aircraft in the world Airbus A350.
"Lagos and Dubai are the first stations to receive Ethiopian Airlines brand new Baby."
According to Begashaw, the fact that Ethiopian Airlines is ushering in another first to Africa in a span of four years is an affirmation of its continuing pioneering role in African aviation.
Begashaw said: "It is also a testimony of our commitment to give our passengers the very best travel experience, with the latest industry products and services.
"The A350 XWB are fitted with the latest high-definition touch screen personal monitors and a higher selection of movies, television series and audio channels.
"In flight Wi-Fi connection will be made available on this aircraft in the future.
"Passengers with smart devices can connect to the world while others can use the smart individual touch screens on their seats when the internet service goes operational.
"The A350 XWB's innovative technology also improves performance in operation while its revolutionary airframe and simplified systems have optimised fuel burn, maintenance costs and reliability."
Begashaw said the aircraft engines had the lowest carbon dioxide CO2 emissions of any in the wide body category.
He said the airline had done its part by bringing the best to the Nigerian travel industry toward ensuring that travel business and tourism would continue to flourish in the country.
"What is left is for the Nigerian public to join hands with us and for continuous enjoyment for the best yet to come," he added.
Source:http://theeagleonline.com.ng/ethiopian-airlines-acquires-first-airbus-aircraft-for-africa-operations/