Ethiopian Airline commences Enugu New York flights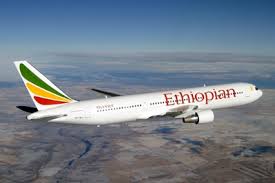 Ethiopian Airline will commence three days a week flights from Enugu to New York on Thursday (today) to enhance business in the South East in particular and the country in general.
The Group Chief Executive Officer of the airline, GebreMariam Tewolde, announced this at the 70th Anniversary of the airline in Enugu on Wednesday.
Tewolde said the airline would commence scheduled thrice weekly flights to New York-Newark from Addis Ababa on July 3 via Lomé, Togo, thereby connecting Enugu to New York.
He said the company would deploy a modern Boeing 787 Dreamliner on the route.
He said: "For travelers flying out of Lagos through Lome to New York, the journey is about 12-hour flight as passengers will connect between New York-Newark and many cities throughout Africa.
"At Lomé, passengers will enjoy seamless connections to/from points in West Africa with ASKY, Ethiopian partner airline based in Lomé.
"Connections will be available to/from Abidjan, Bamako, Bissau, Brazzaville, Conakry, Dakar, Douala, Kinshasa, Lagos, Libreville, N'djamena, Niamey, Ouagadougou, Yaoundé etc.
"We are very pleased that Ethiopian Airline has taken the leadership role in Africa and is among the few leading airlines in the world to invest in this latest technology and efficient flying machine.
"Operating the youngest fleet in the industry with modern and comfortable customer features in cabin is one of the four pillars of our vision 2025, 15 years strategic road map and the introduction of the A-350 is one component of this strategy.
"We have also ensured that our aircraft are designed and configured to surpass the expectations of our customers.
"Africa's first A350 will provide new features such as wider seats in both business and economy classes, the lowest twin engine noise level, advanced air conditioning technology and full LED mood lighting to enhance comfort, while reducing fatigue after a long flight.
"The Airbus 350 XWB will enable us to further expand our service quality, especially on our long-haul flights, strengthen our connectivity and with the least carbon emission to our planet."
Tewolde described it as "the New Spirit of Africa to the world".
As part of the anniversary, he announced that the airline would be giving out 10 tickets free to lucky winners from the Enugu zone.
He said: "This will be part of the 50 free tickets that will be given out to Nigerians as part of our 70th anniversary.
"To qualify for the ticket, you have to like the Ethiopian Airline Nigeria Facebook page, then send an SMS with your Facebook name and the city you reside in, to 08133235804."
Ethiopian Airline is the first International airline to fly into Enugu Airport since August 2013 and connects Enugu to 92 destinations globally.
"It offers unparalleled onboard comfort to passengers and the world's most environmentally friendly aircraft with lower carbon and noise emissions," Tewolde added.
Source: http://theeagleonline.com.ng/ethiopian-airline-commences-enugu-new-york-flights/